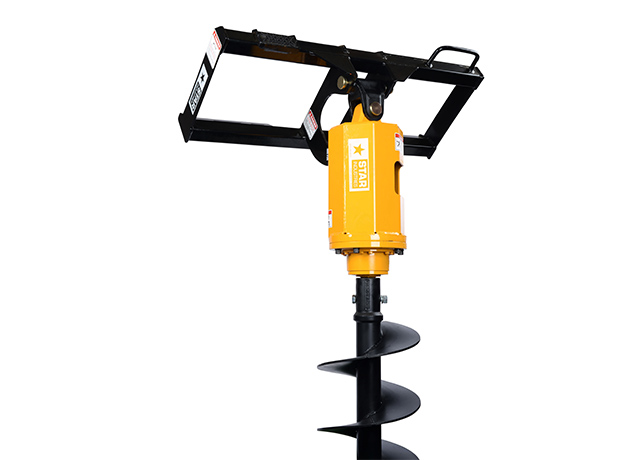 Auger drive and frame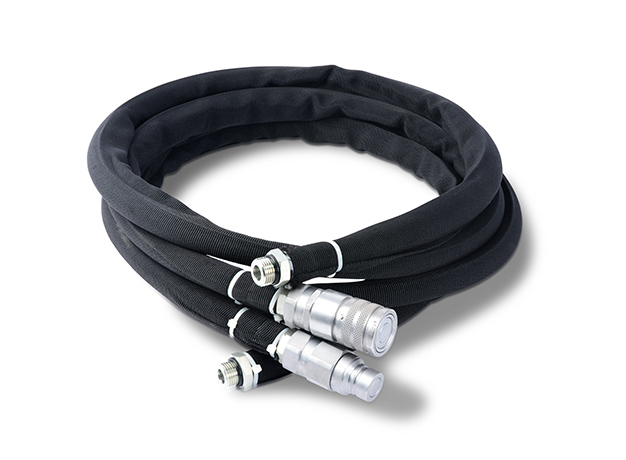 Hose Kit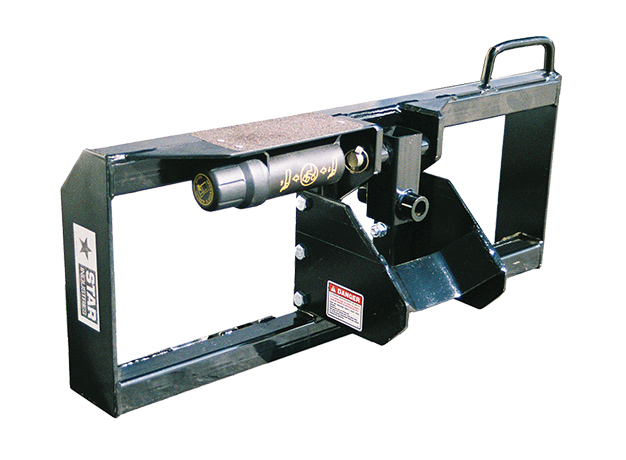 Universal Skid-Steer Mount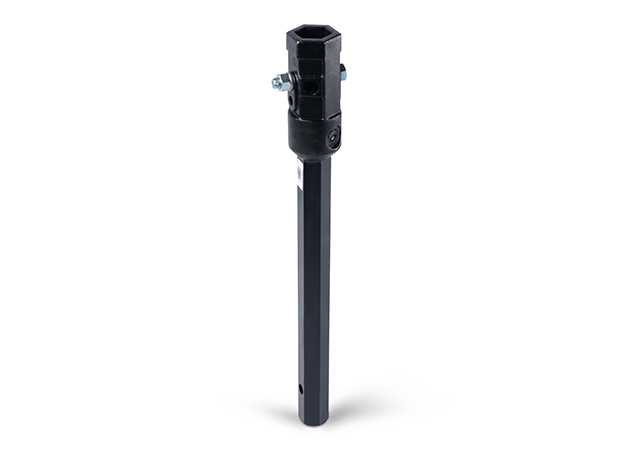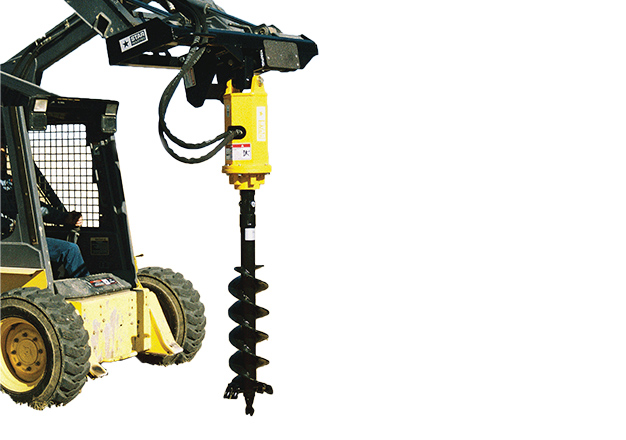 Complete Assembly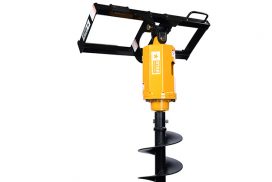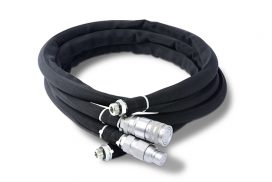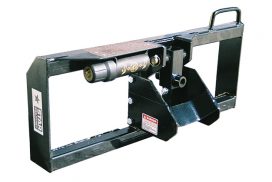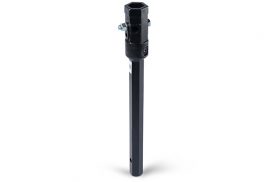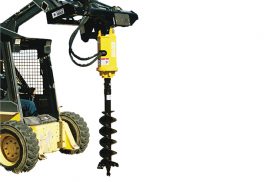 Auger Kit Complete Assembly
Ideal for dirt, concrete and even solid rock
Range of auger types and shaft extensions for all applications
Extra heavy-duty components that outperform all other drives in their class
Mini Auger kit available
Everything you need to get drilling
Take on the toughest drilling applications with a Star Industries Auger Kit. The rugged planetary drive unit features heavier components than any other competitor giving it more torque and strength to handle any drilling job (even solid rock).
Mounting Frames
Star Industry Auger Mounting Frames are constructed from heavy wall tubular steel and feature the largest and strongest cradle on the market. Mounting includes a convenient, weatherproof tube for storage of operations manual.
Hose Kit
Hose Kit includes two ½ x 96" hoses in a protective sleeve and flat face hydraulic quick couplers.
Drives
Rugged planetary drive units feature heavier components than all competitors and will outperform all other drives in their class. Paired with the correct auger, they can handle any drilling need.
Auger Kits
Skid Steer (SS) – Universal Skid-Steer Mount
Mini Skid-Steer (MSS) – Mini Skid-Steer Mount
Backhoe (BH) – Backhoe Mount
*Available in any combination of Auger Drive Unit and Frame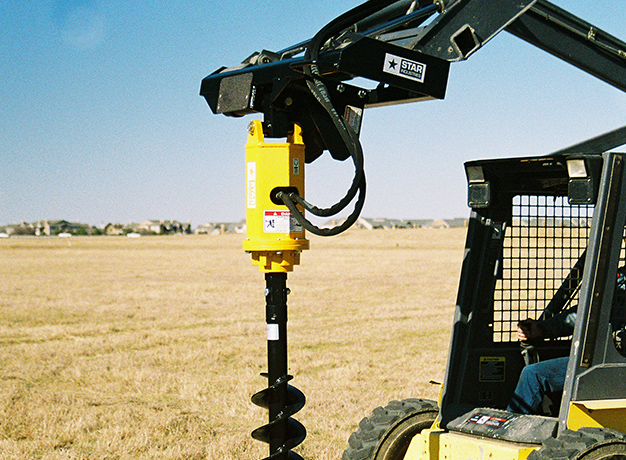 Auger Mounting Frames
| Model | For |
| --- | --- |
| 160QT-SS | Universal Skid-Steer Mount |
| 160QT-MSS | Mini-Skid-Steer Mount |
| 160QT-FL | Fits specified telehandler quick-tach |
| 160QT-BH | Boom tip attachment for Backhoes and Mini-Excavators |
Drive Specifications
| Attribute | 160D-1020 | 160D-1530 | 160D-2035 | 160D-615M | 160D-1020M | 160D-1530M |
| --- | --- | --- | --- | --- | --- | --- |
| Min./Max. Fluid Flow Limits | 10-20 GPM | 15-30 GPM | 20-35 GPM | 5-15 GPM | 10-20 GPM | 15-30 GPM |
| Max. Intermittent Pressure | 3000 PSI | 3000 PSI | 3000 PSI | 3000 PSI | 3000 PSI | 3000 PSI |
| Max. Continuous Pressure | 3500 PSI | 3500 PSI | 3500 PSI | 3500 PSI | 3500 PSI | 3500 PSI |
| Max. Auger Dia. Dirt/Rock | 30 in/24 in | 36 in/36 in | 36 in/36 in | 18 in/18 in | 30 in/24 in | 36 in /36 in |
Speed Output
| FLOW | 160D-1020 | 160D-1530 | 160D-2035 | 160D-615M | 160D-1020M | 160D-1530M |
| --- | --- | --- | --- | --- | --- | --- |
| 5 GPM | – | – | – | 31 RPM | – | – |
| 10 GPM | 43 RPM | – | – | 61 RPM | 53 RPM | – |
| 15 GPM | 65 RPM | 45 RPM | – | 91 RPM | 79 RPM | 55 RPM |
| 20 GPM | 86 RPM | 60 RPM | 50 RPM | – | 105 RPM | 73 RPM |
| 25 GPM | – | 75 RPM | 62 RPM | – | – | 92 RPM |
| 30 GPM | – | 90 RPM | 75 RPM | – | – | 110 RPM |
| 35 GPM | – | – | 87 RPM | – | – | – |
Torque Output
| PRESSURE | 160D-1020 | 160D-1530 | 160D-2035 | 160D-615M | 160D-1020M | 160D-1530M |
| --- | --- | --- | --- | --- | --- | --- |
| 2000 PSI | 1420 ft. lbs. | 2041 ft. lbs. | 2459 ft. lbs. | 1008 ft. lbs. | 1165 ft. lbs. | 1674 ft. lbs. |
| 2500 PSI | 1776 ft. lbs. | 2550 ft. lbs. | 3075 ft. lbs. | 1260 ft. lbs. | 1456 ft. lbs. | 2092 ft. lbs. |
| 3000 PSI | 2131ft. lbs. | 3062 ft. lbs. | 3688 ft. lbs. | 1512 ft. lbs. | 1747 ft. lbs. | 2511 ft. lbs. |
| 3500 PSI | 2486 ft. lbs. | 3572 ft. lbs. | 4303 ft. lbs. | 1764 ft. lbs. | 2038 ft. lbs. | 2929 ft. lbs. |
Operating manual/safety information available online and at 1-800-541-1797