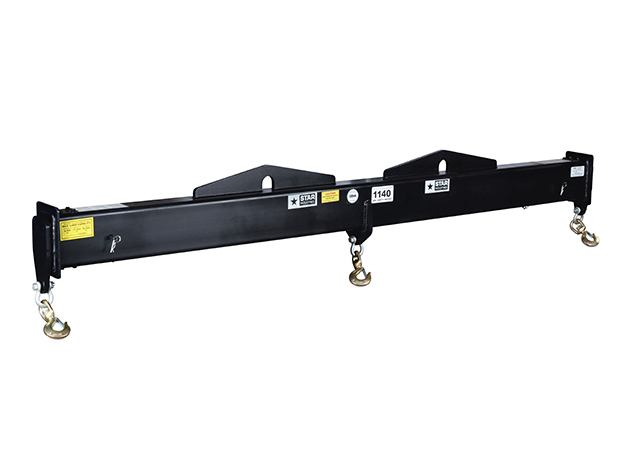 Adjustable Spreader Bar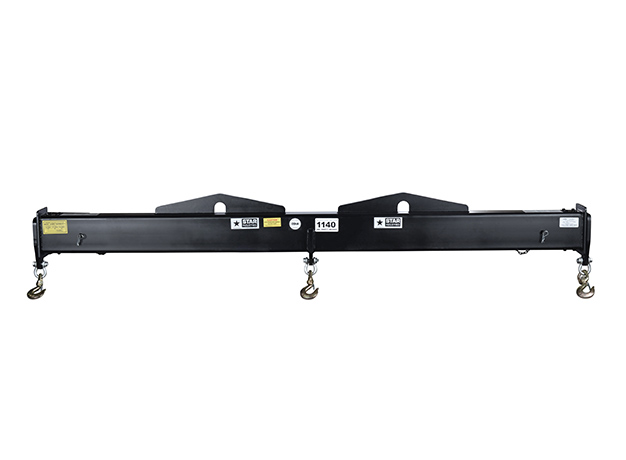 Spreader Bar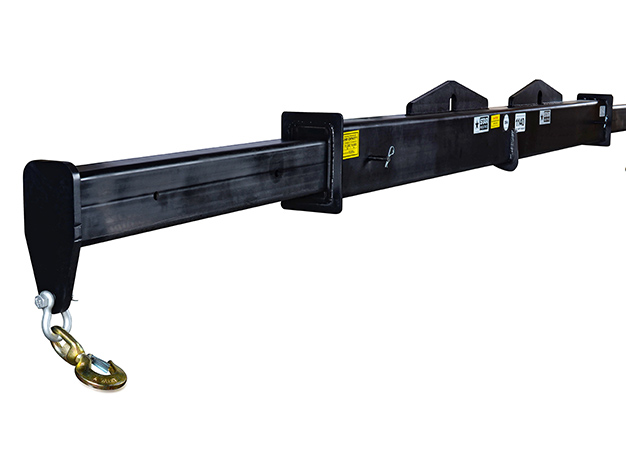 Spreader Bar Hook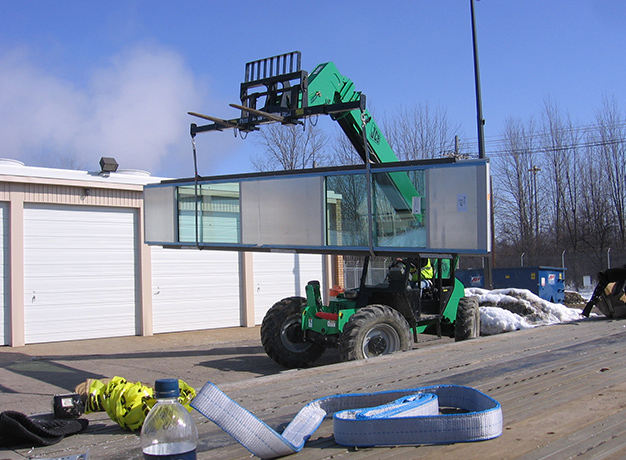 Crane Spreader bar in action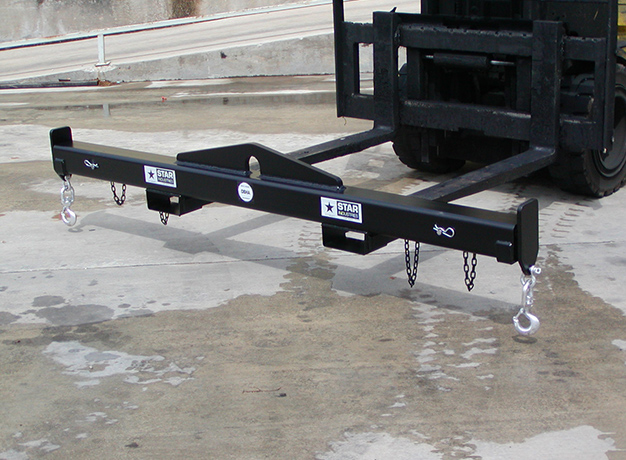 Crane Spreader bar onsite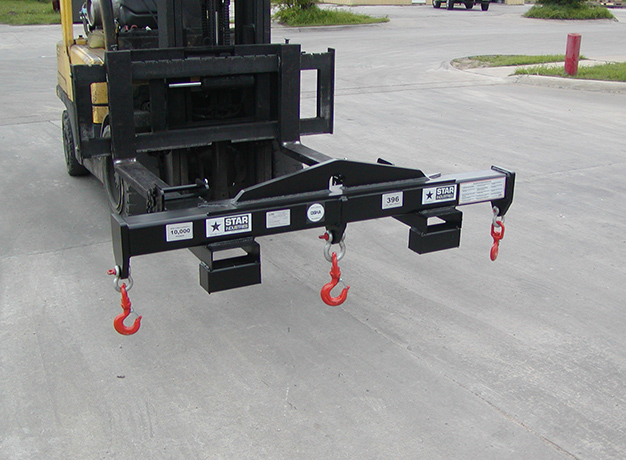 Crane Spreader bar and forklift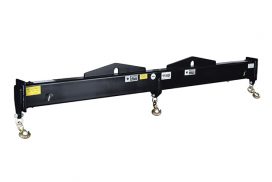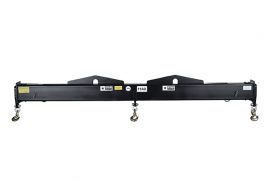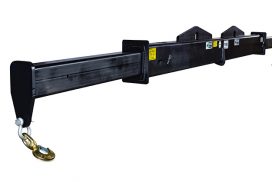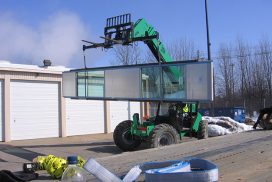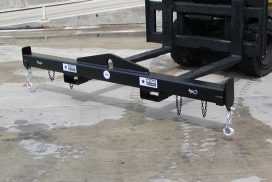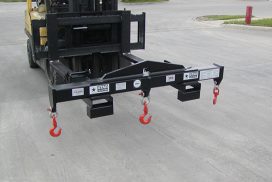 Crane Spreader Bar
Choice of 4 crane spreader bar options and 7 forklift spreader bar options
Use with rough terrain forklifts, either straight mast or extendable reach that accept forks 7" wide x 2 ½" thick.
Two separate hook points that allows the spreader bar to be suspended from a crane.
Handle extra-long material easier and more safely
A Star Industries spreader bar for cranes is the perfect solution for handling long and awkward material that tends to bend. It's great for handling rebar cages as well as beams, trusses, metal roofing and siding.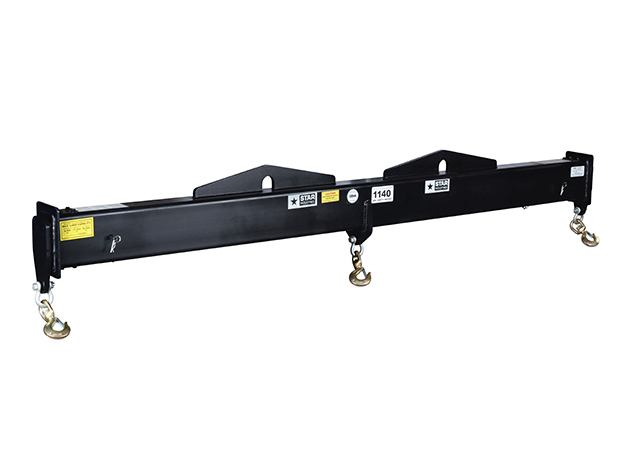 Crane Spreader Bar Models
| Model | Type | Size | Capacity | Weight |
| --- | --- | --- | --- | --- |
| 1142 | Fixed length | 6ft | 10,000 lbs | 220 lbs |
| 1177A | Fixed length | 12ft | 20,000 lbs | 725 lbs |
| 1150A | Adjustable | 8ft to 12ft | 8,000 / 6,400 / 5,000 lbs | 534 lbs |
| 1160A | Adjustable | 12ft to 20ft | 16,800 / 11,200 / 8,000 lbs | 1140 lbs |
All Crane Spreader Bars have a Center Hook
Forklift Spreader Bar Models
Model
Type
Size
Fork Pocket
Capacity
Weight
1140
Fixed length
6ft
39" OC.
Requires 48" or wider carriage
10,000 lbs
390 lbs
1140-24CC
Fixed length
6ft
24" OC.
Requires 32" or wider carriage
10,000 lbs
390 lbs
1149
Fixed length
7ft
39" OC.
Requires 48" or wider carriage
34,000 lbs
830 lbs
1177B
Fixed length
12ft
39" OC.
Requires 48" or wider carriage
20,000 lbs
825 lbs
1150C
Adjustable
8ft to 10ft
to 12ft
39" OC.
Requires 48" or wider carriage
8,000 / 6,400
/ 5,000 lbs
545 lbs
1150C-FP300C
Adjustable
8ft to 10ft
to 12ft
30" OC.
Requires 38" or wider carriage
8,000 / 6,400
/ 5,000 lbs
545 lbs
1160B
Adjustable
12ft to 16ft
to 20ft
Requires 48" or wider carriage
16,800 / 11,200 / 8,000 lbs
1140 lbs
1160BA
Adjustable includes crane pick points
12ft to 16ft
to 20ft
Requires 48" or wider carriage
16,800 / 11,200 / 8,000 lbs
1140 lbs
Operating manual/safety information available online and at 1-800-541-1797