September 27, 2021
How to use a forklift jib boom safely and what to look for when buying or renting one
With an extendable reach of up to 12 feet, a forklift jib boom is a great way to lift and move heavy and awkward loads around the rental yard or job site.  But as with anything heavily lifted off the ground, it's important to familiarize yourself with the do's and don'ts of the machine and attachment doing the lift.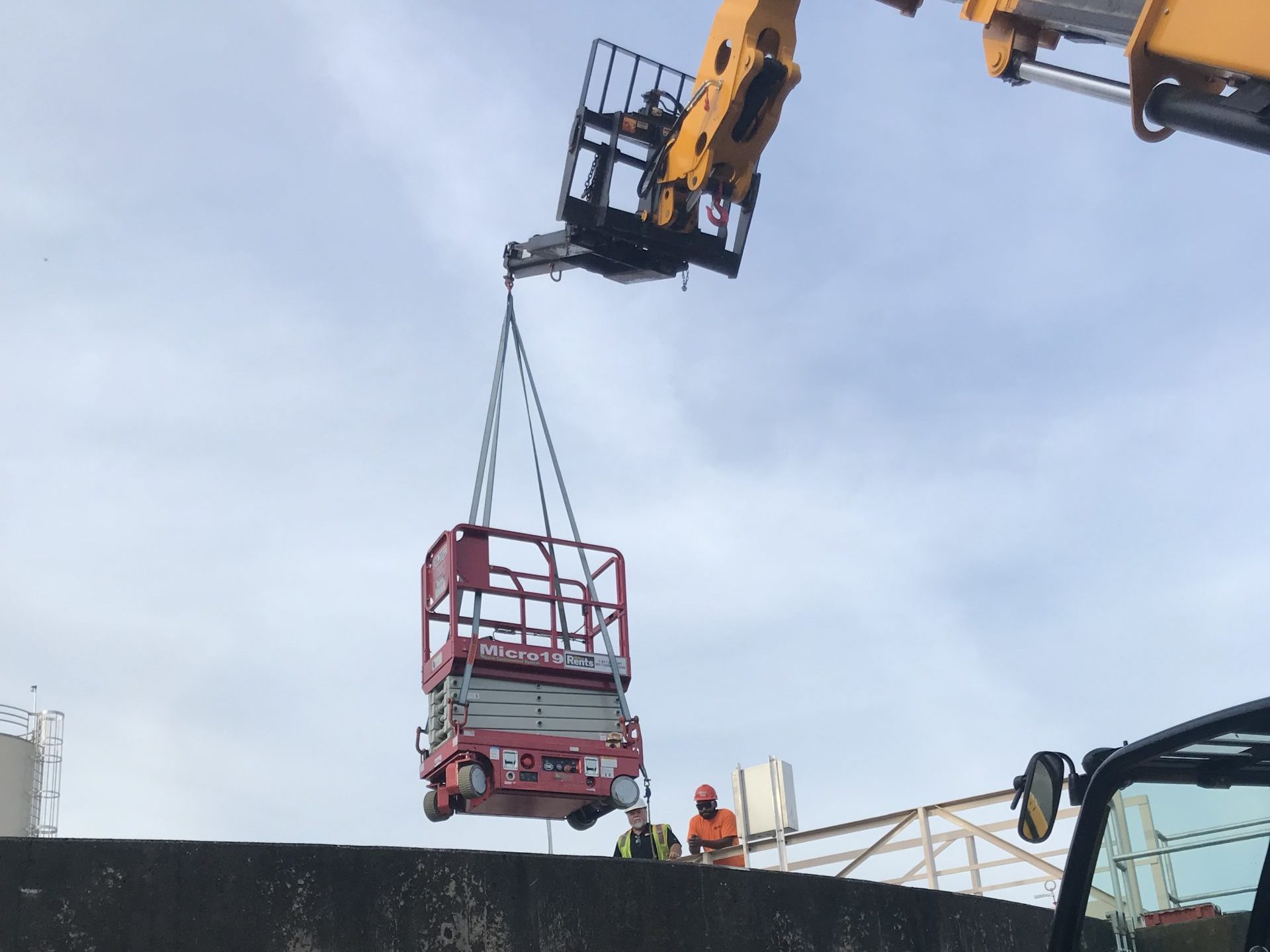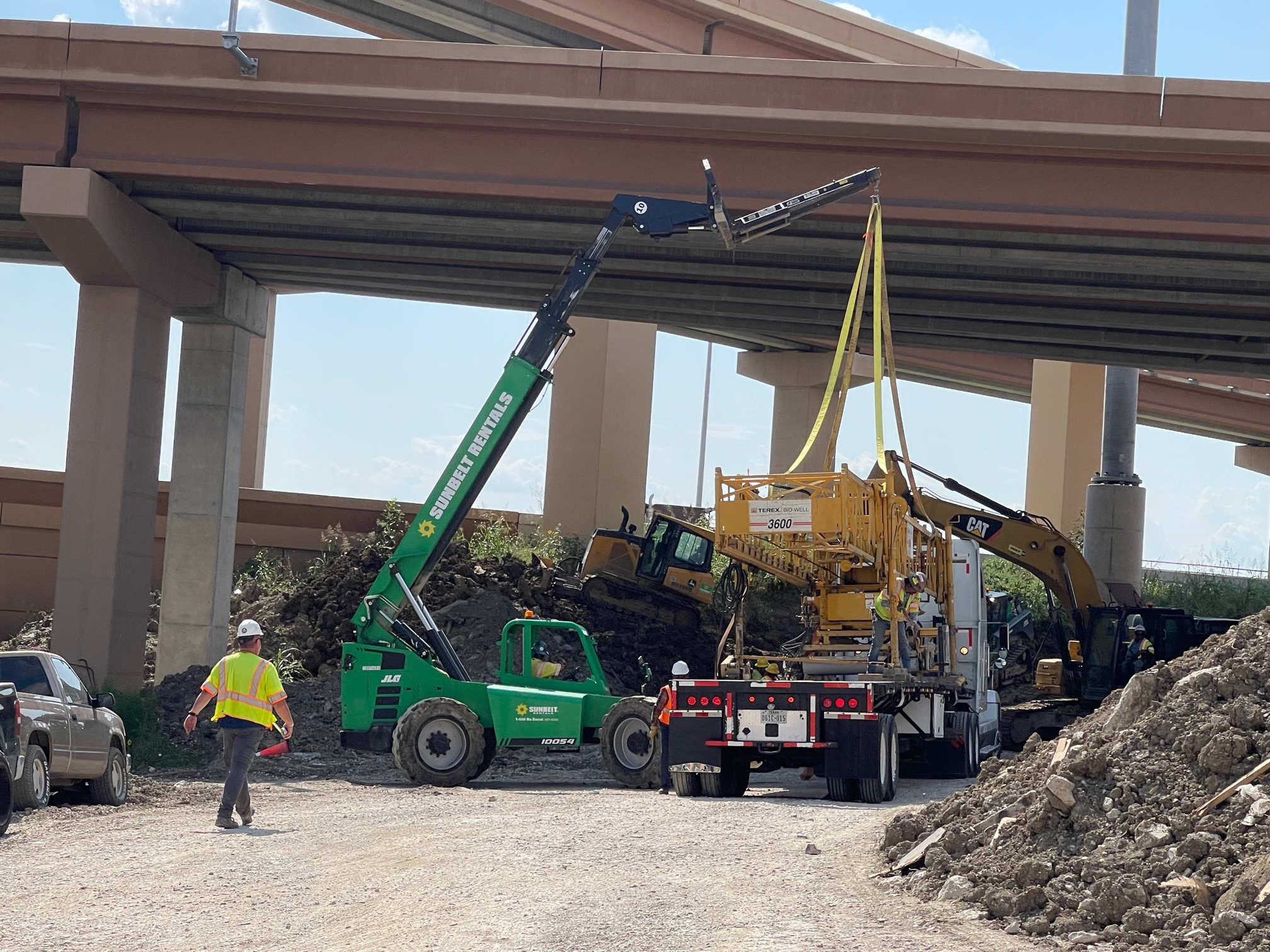 What is a forklift jib boom and what it is used for?
A forklift jib boom is an attachment designed to fit onto straight mast and extendable-reach type forklifts to lift and move suspended loads, most typically over or under obstacles.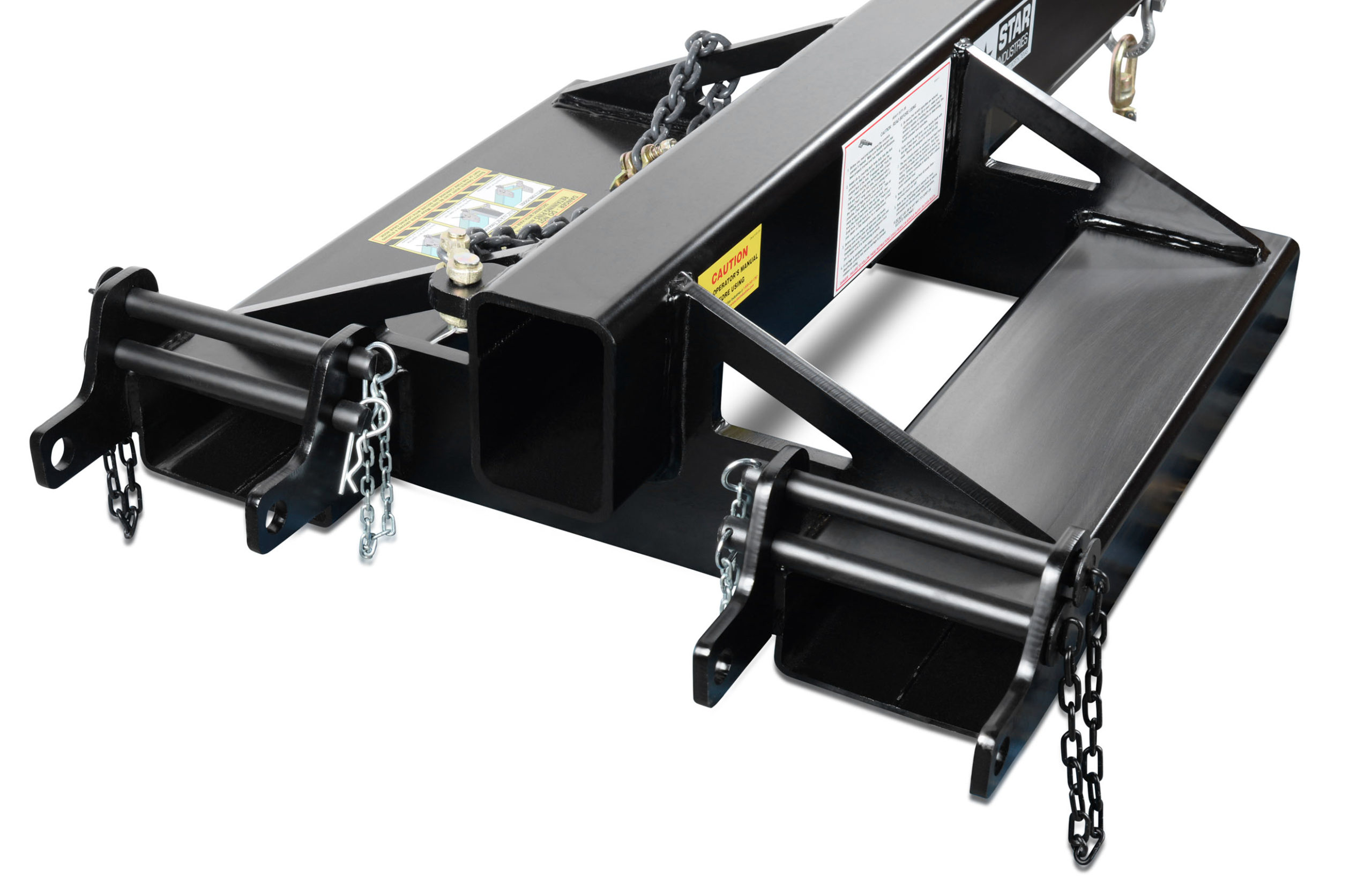 A forklift job boom has a hook and shackle at the end of the jib for easy attachment to the load.  Jib booms are available both in fixed and extendable lengths.  Fixed-length jib booms are best for repetitive lift tasks where load and reach adjustments are not needed. For example, repetitive work in the rental yard.  Extendable-length jib booms, also known as telescopic jib booms, are best used when the load, location and lift height regularly changes such as on construction sites.
Forklift jib booms are perfect for lifting and moving awkward, heavy, suspended loads more suited to the lifting action of a crane.  This can be anything from mechanical equipment, materials or anything requiring a vertical lift through a second floor opening or on top of a building in construction.
What is a suspended load?
Essentially, anything that is lifted off the ground is considered a suspended load.
The primary OSHA standard regulation detailing safe suspended load operation falls under the general industry standard 1910 in Title 29 of the Code of Federal Regulations, "Occupational Safety and Health Standards," Subpart N, "Materials Handling and Storage," specifically section 29 CFR 1910.179, "Overhead and Gantry Cranes."
Many forklift operators are under the mis-understanding that OSHA's Overhead and Gantry Cranes regulations do not apply to them when lifting loads.
Though it is true general forklift operations fall under the different OSHA standard 1910.178, "Powered Industrial Trucks," those regulations are superseded by regulations 1910.179 if the operator uses the forklift with a factory-made or plant-made boom with a hook to perform crane-like tasks.
The OSHA regulation states:
"If an operator uses a factory-made or plant-made boom with a hook, chain or sling attachment then the lifting action has been defined within OSHA as a crane activity and falls under the corresponding crane requirements".
For this reason, it is important to include an explanation of OSHA provisions on overhead crane use in your operational jib boom safety plan.
Jib boom working load limits
It's important to understand a jib boom attachment moves the center of gravity of the combined forklift and load forward. This load shift will change the load center and therefore an operator must use a de-rated load chart provided by the manufacturers of both the forklift and attachment manufacturer.  Another factor to consider is that rated load capacities decrease when the jib boom is in an extended position, when the mast is tilted forward, or when the boom is extended with telehandlers.
A properly engineered and manufactured jib boom will have undergone extensive tests to calculate safe capacity load limits at the various boom lengths.  These will be stated both in the operator's manual and on the jib boom manufacturer's plate.  The stated load capacity limit must never be exceeded.
Typically speaking, a jib boom's load capacity will decrease with each extension of the boom.  This change of load lift based on boom extension is known as a de-rated load capacity.  You should be able to get a de-rated load capacity for your jib boom from the manufacturer or a certified professional engineer.
The table below is an example of a de-rated load capacity chart.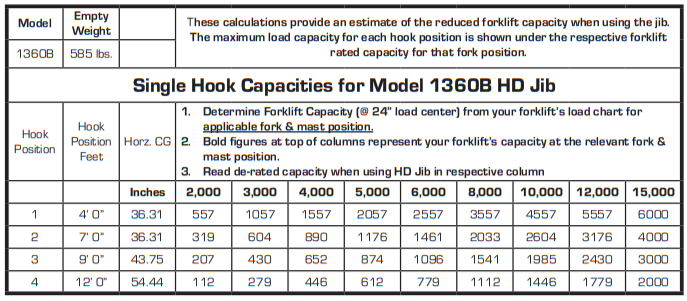 De-rated load capacity chart
Duty of care when using a jib boom
Everyone from the manufacturer to the forklift operator has a work health and safety duty to make sure the jib boom is safe to use—and is being used in accordance with the manufacturer's instructions.
1. Manufacturer responsibilities
Manufacturers of machinery attachment equipment like the jib boom must ensure they meet the applicable guidelines as defined in American National Standards Institute B56.1-1969 and that operator use is without risk to health and safety as is reasonably practical when used in accordance with the supplied guidelines.
This duty includes carrying out analysis, testing or an examination and providing specific information about the attachment.  The jib boom attachment needs to be plated to manufacturer specifications including capacity and safe operation.
2. Office holders
Business owners and managers have the duty to ensure, so far as is reasonably practical, workers and other people are not exposed to health and safety risks arising from the business or undertaking and all WHS guidelines are followed.
This includes the ongoing maintenance of all plant equipment that lifts or suspends loads (including attachments) according to manufacturer standards and OSHA guidelines.
3. Workers and others
Workers and other people at the workplace must take reasonable care for their own health and safety, co-operate with reasonable policies, procedures, and instructions, and not adversely affect other people's health and safety.
This includes following the guidelines supplied for the safe use of the jib boom such as load limits and correct load balancing.
Pre-use considerations and jib boom safety checks
Always undertake pre-use safety checks and general site inspections before using a forklift jib boom to lift and move a load.
General considerations:
Site factors including ground load bearing capacity and weather conditions such as rain, snow or wind.
The forklift/telehandler using the jib boom will not adversely affect or be affected by other plant and structures in the area during the lift and carry.
Installation and commissioning activities are supervised by a competent person.
The jib boom attachment has been installed to the manufacturer's instructions and specified technical standards.
The forklift / telehandler is stable and is safe entry to and exit from—including in an emergency.
Jib boom pre-use check:
The jib boom has been engineered to meet lifting specifications and is correctly plated.
The lifting hook has a spring safety latch to keep strap/chain from coming off the hook.
The Jib has locking pins that secure behind heel of forks as well as safety chain/hook that wraps around the carriage to ensure unit stays on the machine.
Check all shackles and hooks, make sure cotter pins are installed properly and shackles are properly secured.
Operating instructions are always with the unit in the manual holder.
Jib boom operator tips:
Always personally check the jib boom prior to use to ensure that it is properly secured to the forklift/telehandler.
Never use the jib boom without installing retaining pins behind the heel of each fork and securing with hairpins or cotter pins. Safety chain(s) must also be used. Wrap chain around a strong part of the fork carriage and secure with locking grab hook.
Review the maximum load capacities of the forklift, the boom, and the hook prior to lifting a load. All forklifts will decrease in total lift capacity when the load is extended beyond the designed load center measurements which is typically at 2 feet.
Make sure the load is properly balanced between both forks and the load can't slide off the forks like a bare chain/strap can.
Make sure the forks are level or tipped upward when using the jib. You never want to lower the forks below level when lifting a load with a boom attachment because it increases the risk of tipping.
The load should always be carried low and kept from swinging using tag lines as necessary.
When a load is raised; extreme caution should be exercised as the forklift is far more vulnerable to tipping with a raised load.
Loads lifted with the jib boom are only done so vertically. Jib booms should never be used to pull or swing loads. Tag lines can help reduce swinging.
Do not carry jib boom loads over people. Equipment can fail unexpectedly and it's better to be safe than sorry!
What to look for when buying or renting a forklift jib boom
Any forklift jib boom must be engineered in accordance with ASME standards and is rated for your type of forklift or telehandler.  It needs to be plated to manufacturer specifications, including capacity and operation. If your jib boom doesn't have these specifications clearly labelled, it's recommended you don't use it on your job site.
Recommended safety features include retaining pins behind the heel of each fork that can be secured with hairpins or cotter pins; safety chains that can be wrapped around the fork carriage; pull spring-loaded pins for the telescopic boom and an internal stop to ensure the telescopic boom section cannot be accidently pulled all the way out.  Also make sure the swivel hook is properly rated for use with the jib boom.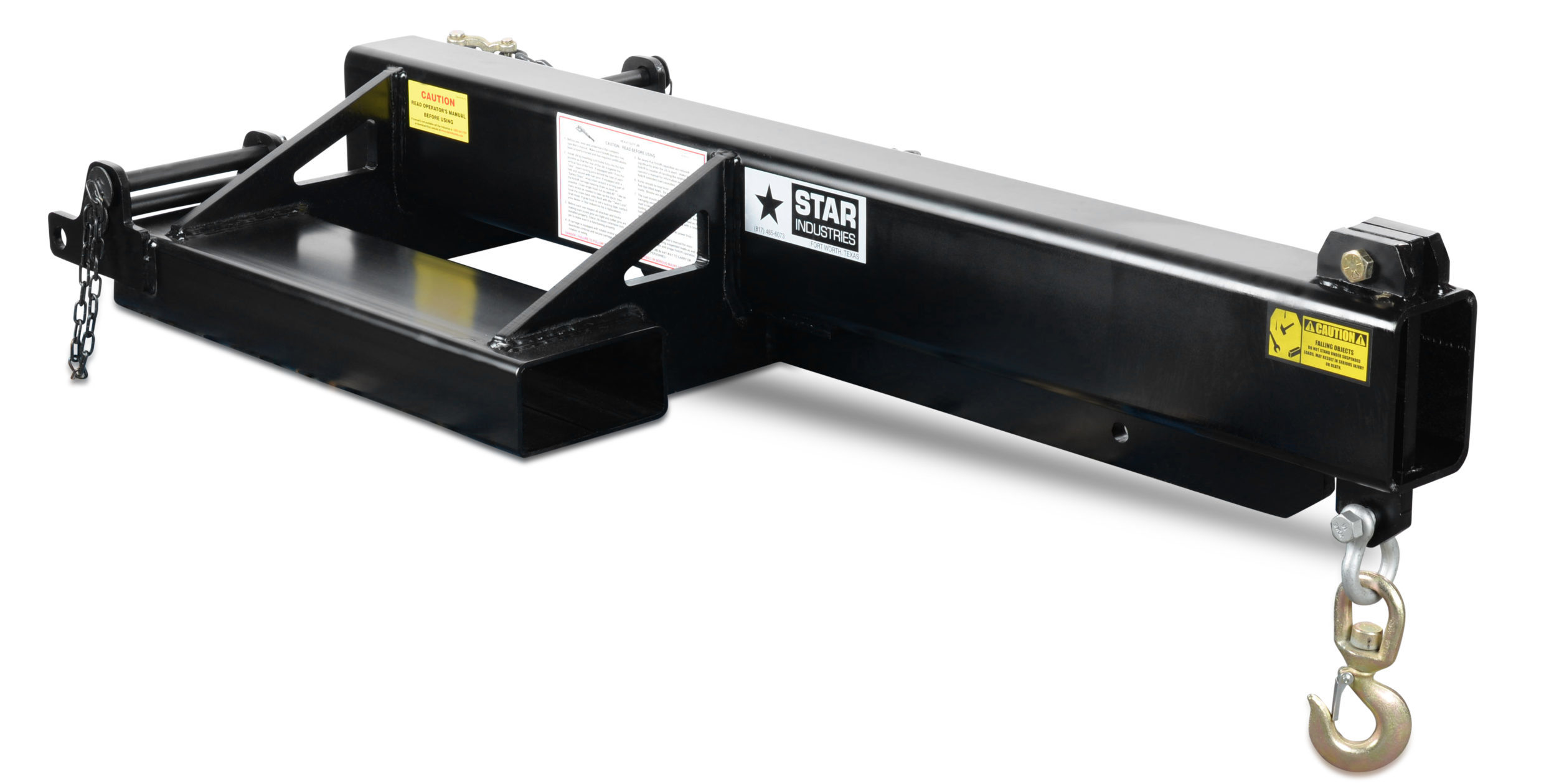 Telescopic two section tubular steel boom
Manually telescopes from 7′ to 12′
Pull spring-loaded pin to telescope—release pin and boom locks in desired position
Internal stop ensures telescopic section cannot be accidentally pulled all the way out
Jib slides on the forks and is pinned behind the heel to secure it to the forklift
Universal fit (slip-on-the forks) design permits use on most all forklifts
One bolted shackle and swivel hook is included