March 9, 2021
What else can you do with your telehandler?
Telehandler safety work platform for the job site
Telescopic boom lifts are great, but they only serve one purpose: to lift people up and down on the job site. But with telescopic booms costing thousands of dollars a month to hire, that can be an expensive piece of equipment sitting idle on the job site between lifts.
The Star Safety Work Platform solves this problem by turning your telehandler into a safe work platform with the same lift and safety advantages offered by a telescopic boom. This means you can use the one machine for multiple applications.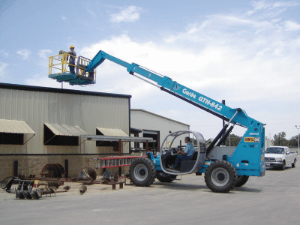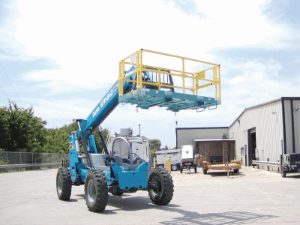 About the Star Safety Work Platform
A Star Industries Safety Work Platform for telehandlers gives you all the safety and lift advantages of a boom lift in a far more versatile machine. Heavy-duty construction and an expanded metal deck make this sturdy platform with safety guardrails perfect for any job that requires workers to be safely elevated. It easily slips over your forks (QT option available) and can lift up to 1,000 lbs safely, making it the perfect tool for the job, turning your telehandler into an elevated performance machine.
What to use it for
As a substitute for boom lifts and scissor lifts to allow you to lift people safely with your telehandler via a slip-over-the-forks attachment
Safely perform elevated tasks when scaffolding doesn't make sense
What we think you'll like about it
Universal fit: slip-on-the-forks and QT options available
Greater mobility: Able to go up, down and forward when attached to a telehandler
Large work platform: Expanded platform provides a wider work platform than boom lifts
Safe: Self-closing gates, rigid modular guardrails and lanyard tie down points for increased operator safety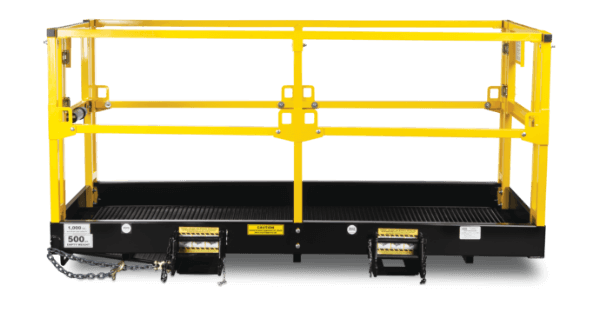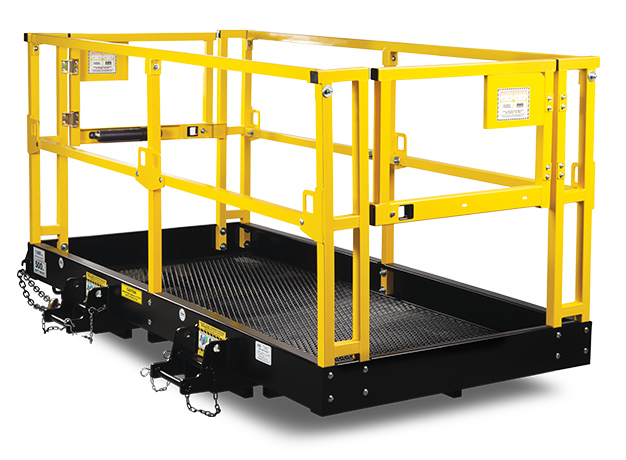 Available Models
| Model | Size | Life Capacity | Empty Weight |
| --- | --- | --- | --- |
| 1204C | 4' x 4' | 1,000 lbs | 350 lbs |
| 1206C | 4' x 6' | 1,000 lbs | 425 lbs |
| 1208C | 4' x 8' | 1,000 lbs | 500 lbs |
| 1210C | 4' x 9.8' | 1,000 lbs | 575 lbs |