March 16, 2021
This look familiar? Don't Risk It. Here's Why.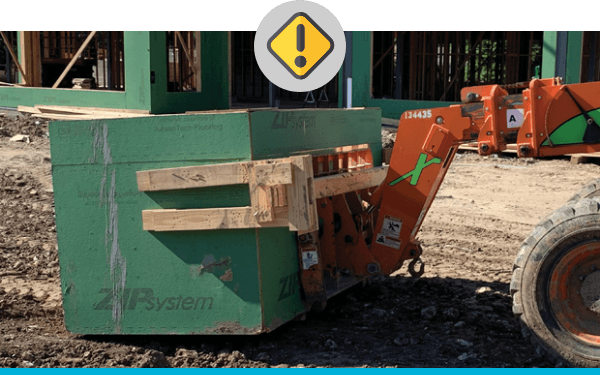 OSHA considers the use of improvised wooden trash boxes and other homemade attachments on construction sites as a SERIOUS and WILLFUL breach.
Job sites are notorious for using wooden boxes on the end of forklifts to move materials, trash, and even workers to the different levels of the job site. It seems innocuous enough. There is plenty of scrap laying around and tradespeople to knock something up.
The reality is OSHA views this practice as a SERIOUS and WILLFUL breach. Penalties for willful breaches from the use of non-compliant machinery attachments start at $2,000. A serious violation can cost $28,000 (or more).
What the OSHA legislation says
The OSHA legislation considers any type of trash box when lifted off the ground to be a scaffold. As such, the scaffold must be designed by a qualified person and constructed and loaded in accordance with that design. Fork-lifts shall not be used to support scaffold platforms unless the entire platform is attached to the fork and the fork-lift is not moved horizontally while the platform is occupied.
Any box lifted off the ground must meet the applicable requirements of design, construction, stability, inspection, testing, maintenance, and operation, as defined in American National Standards Institute B56.1-1969.
These ANSI standard have been developed to protect the security and welfare of your project, your equipment, and your onsite construction workers. Ignoring these through modifying attachments, or by operators ignoring the equipment safety protocols, can lead to deadly workplace accidents.

This tragic 2018 OSHA investigation shows the seriousness of improvised lifting boxes attached to heavy machinery on the job site. The job site contractor was issued with two SERIOUS Violation breaches and the pain of a preventable death.
Event: 05/07/2018
Investigation: Employee Is Killed In Fall From Fork Truck Platform
Summary: At 1:15 p.m. on May 7, 2018, Employee #1 was working from a fourth-floor wall opening, at an approximate 32-foot elevation, removing a concrete filled wheelbarrow. Employee #1 was contained in an improvised wooden trash box, measuring 4 feet by 4 feet by 8 feet, that was placed on the forks of a JLG rough terrain fork truck. During work, the trash box shifted and both Employee #1 and the wheelbarrow fell 32 feet to the ground. Employee #1 struck a concrete block wall during the fall and suffered multiple broken bones and crushing injuries, killing him.

Any trash and loose material hopper must be engineered to meet all ANSI and OSHA regulations.
It needs to be plated to manufacturer specifications including capacity and operation. Recommended trash hopper safety features include secure pin plates to capture the heels of the forks, safety chains to capture the carriage and heavy duty 3/16" steel construction. This will prevent the hopper accidentally falling off your telehandler or similar piece of equipment and causing damage or serious injury on the job site.
Above all else, any trash hopper attachment must be certified to follow all ANSI rules and guidelines to maximize safety, and minimize hazardous situations, and the chance of property damage or workplace injury. If you ignore the uses, load and capacity ratings of your equipment and attachments, or circumvent ANSI and OSHA safety standards by using home-made, non-certified machinery attachments, you're endangering your equipment, contracts, workers and your entire job site.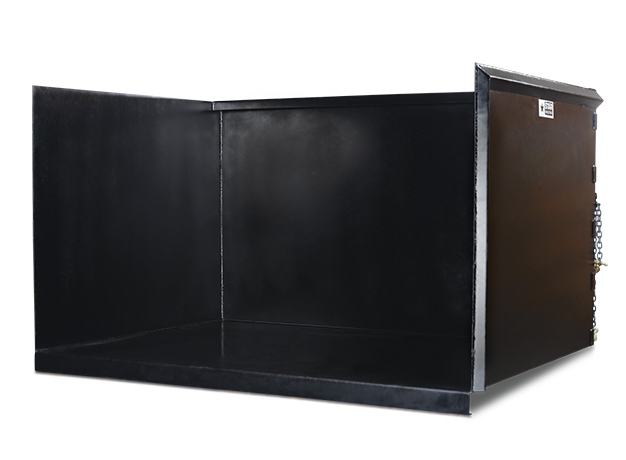 Designed for extendable reach forklifts, the Heavy-Duty Trash Hopper by Star Industries is engineered to meet all ANSI and OSHA regulations.
Heavy duty 3/16 steel construction for greater strength and rigidity
Full length fork channel to add strength and ensure the correct forklift pickup points
3′ chain & locking grab hook to secure hopper to the carriage as a secondary safety measure
Secure pin plate capture for both forks
USA Made and meets or exceeds manufacturer requirements for safety
Full length fork channel to add strength and ensure the correct forklift pickup points